LauriPure™ Balm Moisturizing Antiseptic Ointment Customer Testimonials by Category and Use
While LauriPure™ Balm is University and Professional Sports Evaluated, the consumer testimonials best describe the uses and results already achieved by this remarkable product!



Diabetics
"My wife is diabetic, is not ambulatory, and is very susceptible to pressure sores. She recently developed a pressure ulcer approximately 2mm in diameter which I would describe as a Stage 1/Stage 2. LauriPure™ Balm was applied to the ulcer 4 to 6 times daily. There was noticeable improvement within the first two days, with complete healing after about five days. No other treatment was used."
-Robin Shindler
"I'm a diabetic who always gets sores on my legs that scab up and get swollen. Since applying LauriPure™ daily (once in the morning and once at night), I've had no scabs and my skin is smooth. This product keeps away infection and keeps my skin soft."
-Radi

"I was given an opportunity a few years ago to use LauriPure™ Balm. As a diabetic for fifteen years, I had frequently experienced problems with excessive dryness in my feet. The skin on the soles of my feet was coarse and I suffered from chronic painful and sometimes bleeding heel cracks – problems afflicting many diabetics.
LauriPure™ changed that dramatically and quickly. With the regular use of LauriPure™ after showers my feet are now in good shape and I no longer suffer from painful heel cracks. To a diabetic this is no small thing. It removed one significant issue from the numerous routines and problems diabetics must deal with on a daily basis. LauriPure™ has become an important ongoing part of my health maintenance program for my diabetes along with medication, diet and exercise regimens.
I was recently sick for over a month and neglected my normal applications of LauriPure™. By the time I had recovered from my illness I became aware that painful heel cracks had returned. I then began my routine of regular LauriPure™ applications and within two weeks the problem was resolved: the cracks were gone and the skin on my feet again was supple and healthy.
In the summer I frequently wear sandals which can also lead to dry feet and soreness. I have found that frequent use of LauriPure™ can keep my feet in great shape. My wife also uses LauriPure™ for this reason as well and appreciates the great results she has had with it, especially during the summer months."
-Scott Grove                                                                                                                                                                                          
"I have had cellulitis in my right leg and foot 5 times in the last 3 years. I also have neuropathy in my feet. That being said, I have had 2 surgeries on my right foot in less than a year. With each surgery, I cannot wash my leg or foot for about 6 weeks. That also means no lotion. Your skin and feet become very dry and scaly. I showed my doctor the LauriPure™ jar and he Ok'd the use saying it would be good in protecting and strengthening my skin back to good health. He was right. This product has put new life back into my skin. My foot looks almost normal again. Any scaling on my skin is gone.
My job requires a lot of movement. I stand, sit or kneel all day. I have developed callous knees, the skin has become thick and dry. Well, not anymore! Since I have started using LauriPure™ the callous is gone and the skin is back to normal. When you apply this product it stays with you all day. I have come home after work and still been able to feel the LauriPure™ on my skin.
And lastly, I always have dry skin on my legs sometimes to the point of dry spots, Again, not anymore! Since using LauriPure™ my skin is back to normal appearance. It is truly a great product. Have one of my customers now using it. I'll see her again tomorrow. Thanks again. I'm a happy customer."
-Thomas Paulson


Methicillin – resistant Staphylococcus aureus, MRSA
"I have a client who allowed me to share this. After his second round of MRSA skin infection and antibiotic they were desperate for help. We started the patient on LauriPure™ on 11-16-2012 and followed up two weeks later on 11-29-2012. Wow.
We have so many stories of ulcers both on the skin and the stomach that only healed after oral Lauricidin or topical LauriPure™. We give all our ulcer patients both oral and topical now. EVERYONE has gotten better. 100% of our clients. Thank you so much."
-Steven L Vanden Hoek, DC, FASA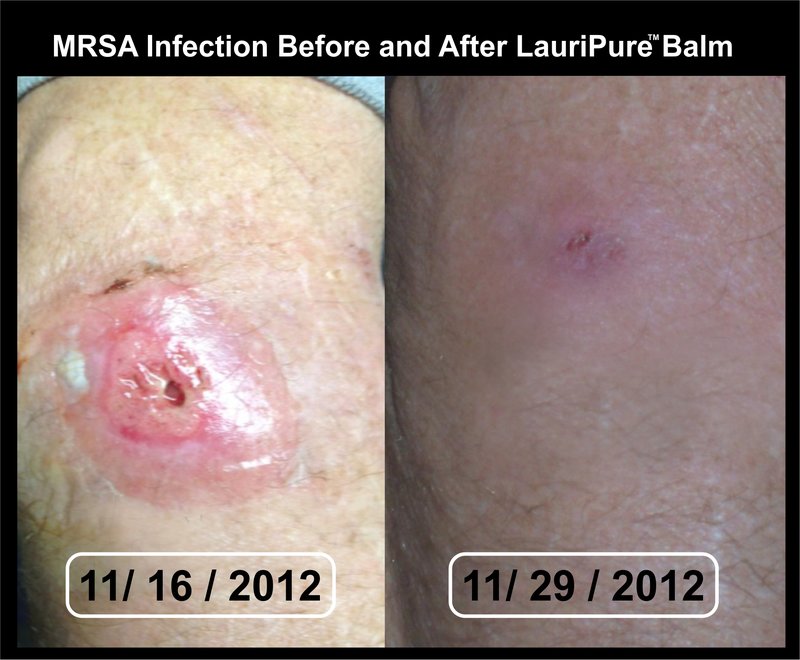 General Uses
"Thank you so much for the LauriPure™ Balm. My dad brought it over this weekend. We are grateful for it! It is the ONLY thing that cures my daughter Britta's diaper rash, and believe me we have tried a lot of different things. Some of the diaper creams seem to actually GIVE her a rash, which is counterintuitive…
Britta has had some monster diaper rashes – very, very red and inflamed, to the point of actual sores on her little bottom. So painful that her arms actually shake when we have to wipe her – just awful! When she has a bad rash like that we slather her in LauriPure™ before bed, and, I kid you not – by morning the rash is about 80% resolved. Overnight! No more baby pain! Unbelievable!
Every time we have to give Britta a course of antibiotics she gets a yeast infection. Left to its own devices it gets worse quickly and becomes a diaper rash/yeast infection combo. Now at the first hint of yeast we smear her with LauriPure™ and bam! – LauriPure™ stops the yeast in its tracks. She has not had a yeast infection since we started using LauriPure™ on her.
That stuff is amazing. I'm a huge fan. Thank you again for sharing."
-Jessica Kurth
"You now have a new use for LauriPure™. Here is a quote from my daughter:
I had sores in my bottom from the hemorrhoids and from wiping, etc. The LauriPure™ cleared this up immediately. I could not even sleep the first night because it hurt every time I moved. The Lauripure™ relieved the pain immediately and then completely cleared it up within 2 days. I am now a true believer in this stuff."
-Steven L Vanden Hoek, DC, FASA
"I had been on a high dose of antibiotics for several weeks after having surgery. After completing the medication my skin was so dry my hands and feet had painful open cracks. I tried several creams and lotions but nothing helped.
My brother had been using a product called LauriPure™ and gave me a sample to try on my hands. Within minutes of applying we watched the redness disappear. I was able to make a fist with my hands without them feeling like the skin would crack!
I stared using the LauriPure™ on my hands and feet and within 2 days the cracks on my feet closed. My feet no longer felt like sandpaper.
The LauriPure™ is a moisturizing and antiseptic miracle! I have started to use it after my shower and it works wonders. Decided to try it on my face. I put it on and let it absorb and then apply makeup. It leaves a protective shield that keeps my face looking moisturized all day.
Great product! Wish I would have known about it before I spent so much money on different products that did not work."
-Sara Dickie
"LauriPure™ Balm is an amazing product. I've used this product for approximately six months and it immediately strengthened my nails and provided relief to my cracked heals. Most importantly, it helped to eliminate a hairline crack in one of my nail beds."
-Shirley Knutson
"Working in the food industry and having to wash my hands constantly all day long and with this long winter season my hands were cracking and dried out all the time. Since I started using your product, my hands are soft and I don't get those painful little cracks that split open my fingertips anymore. I just started using it on my feet and it has made them soft and ready to wear flip flops. I have told a lot of my coworkers about your product and will continue to use it."
-Peggy Clasen
"I am sending this email to tell you how pleased I have been with your LauriPure™ Moisturizing Balm. I have used your product to treat the skin on both my hands and feet with great results. I am not sure if your other customers have used LauriPure™ in the manner that I have, so I thought I would drop you a line to share my experience.
Early in my sixties I began developing cracks in the skin of my fingers that became very uncomfortable with my daily activities. I was unable to heal the skin on my hands with any of the products I tried, until LauriPure™ came along. I found that if I applied a small amount of your product to a Band-Aid at night, and placed it over the cracks on my fingers, my skin healed very quickly. Once the healing started I continued applying your balm two to three times per day, or whenever my hands were exposed to water or other extreme conditions here in Minnesota. Since I began using LauriPure™, I have not had an additional crack in either hand, and could not be happier.
I have also been applying LauriPure™ to my feet as recommended in your product directions, and have been having good results. In addition to applying your product to my feet for dry skin, I have been applying a fairly liberal amount to the thickening toenails on both feet before putting on my socks each day. Granted, my thickening toenails are not as bad as some I have seen, however with your product mine have mostly returned to normal.
I am 67 years old and skin problems such as mine probably affect most people as they age. I am fighting the aging process with everything I have, and LauriPure™ has been a big help. GREAT PRODUCT!"
-Harvey Johnson
"This is a follow-up to the email I sent you on March 25th regarding your LauriPure™ product. I continue to be amazed at how well your product has worked for me.
At the time of my last email, in addition to the great results I received with your product on my hands and toenails, I was also applying LauriPure™ to the heal of my left foot. Over the years the skin has gotten thick, pealed badly, and often developed cracks that became very uncomfortable.
After having this problem for several years, I found that if I used an abrasive to remove the dead skin after showering, and applied LauriPure™ before putting on my socks, the healing began very quickly. It has been about a month since my first email to you, and about two months since I began a daily application of your product to my feet. The results have been incredible to me. Once again, thanks for a great product."
-Harvey Johnson
"Living in Minnesota, we have to deal with cold winters. To compound this, I worked in a career where I handled large amounts of paper. I developed a condition that affects many – dry hands and painfully cracked fingertips. Over the years I tried many lotions and ointments with little or no relief. Last winter was particularly bad; my fingertips were very painful and at times bleeding.
I tried LauriPure™ Balm and was amazed with the results. My hands were no longer dry and chapped and my knuckles and fingertips healed up.
I highly recommend LauriPure™ Balm to anyone with dry hands and especially people with cracked fingertips."
-Frank J. Strohmayer

                                                                                                                                                                                           
"LauriPure™ Balm has been used by me for approximately three years on my feet. As I'm aging my heels have become more hardened and callus. Applying LauriPure™ Balm helps to keep them soft and from cracking. Even my daughter noticed the difference, commenting on the changed appearance of my feet. She also uses this product now with good results.
-Erika Marzitelli
"LauriPure™ has been very good in relieving the rough dry skin on my knees and elbows. It also has kept the skin on my fingers from cracking, which has been a problem for many years and will continue to use this product."                                                                                                                                                                                                 -Tim Kleist

"I just wanted to send you a note to tell you how much I love your LauriPure™. I rub it into my hands every night and during the day if I get a chance. When I was back in Minnesota at Christmas I babysat my two little granddaughters for nine days.
During that time all I did was change diapers, cook and wash my hands constantly! LauriPure™ saved my hands from total destruction!!!"
-Linda Aasen
"I've had bad shingles on my stomach and back area. A friend gave me LauriPure™ after the first day I've seen a big difference. I put it on twice a day and my skin is smooth and isn't scabby anymore."
-Nikki
"Best skin moisturizer I've ever used. Skin feels and looks great. Can't live without it. Forget about all other lotions."
-Kim
"I've had a bad yeast infection for the last week. I've tried a couple of over the counter products and have had no luck. Now I use it daily, on burns, cold sores, mosquito bites, rashes, it helps a lot. I love it as a daily lotion."
-Jenny
"I applied LauriPure™ on an irritated rash I got while working in my garden. Within an hour the itching and spots were gone."
-C.B.
"Note about my experience using LauriPure™. I can call this cream the magic cream. I applied it on almost every problem I had on my skin and even mouth. From mosquito bites to burns, scratches, cuts, and mouth sores the results were magic. I love it."
-Nadia
"I've had a few tattoos before I got my new one, my friend Mike gave me a product called LauriPure™ to apply on my new tattoo kept it moist and no peeling, scabbing, healed up faster than my last tattoos.
-Erica
"The balm worked really well on my husband's foot. It was red, itchy, and raw. It healed it in a few days. I also used it on my dry elbows and knees. It helps moisturize and improve the skin."
-Marilyn
"I work at bar always running around and my feet get rough and ashy. Since I've used LauriPure™ Balm once in the morning and before I go to bed my feet are smoother and nice now. They look and feel like I get a pedicure weekly. Great product! Thanks."
-Jacki Hale
"I'm always at the gym working out. I walk around barefoot but occasionally I get a fungus or athletes foot between my toes. Since I've used LauriPure™ my feet are smooth, don't itch and have been fine ever since. Excellent product."
-Joe
"Thanks to a family friend my skin is now smooth. Especially my hands. My hands were like sandpaper before LauriPure™. Thank you! What a great product."
-Tammy
"Cuticles grow fast and I'm always picking at them. Since I've been using LauriPure™ my nails look like I'm getting a professional manicure. Works great on my whole body especially knees and feet. I feel better when I'm at the gym and have your product on my feet when I'm walking around the locker room."
-Mitri
"My whole family uses LauriPure™! During the winter months, I apply it to my hands and cover them with gloves before bed…it sooths redness and dryness caused by the elements.  I used to spend a small fortune on hand creams that do NOT work as well as LauriPure™.  My ear piercings sometimes get itchy and crusty (YUCK, I know). I've found that I can actually prevent this from happening by dipping my earring posts into LauriPure™ - if you can imagine, I was very pleased with that discovery.
While taking our boat out of the water last fall, my husband sustained hundreds (I'm not exaggerating) of little cuts from zebra mussels (an invasive species that has unfortunately infested our lake). He said that his feet really hurt and I feared that these cuts could become a serious infection. He applied LauriPure™ post-shower and after several days, the cuts were completely healed!
Last summer, I noticed a weird spot on my Labrador's leg that had caused the fur to fall out and the skin to be red and irritated (bug bite maybe?).  Before running to the vet, I applied LauriPure™ for a few days and it did the trick.  No vet appointment (or vet bills) necessary! This product is amazing!"
-Megan C